How Much Do Waterfront Homes Sell For on the Chain O' Lakes, IL?
Posted by Andy Van Treeck on Monday, May 29, 2023 at 11:00 AM
By Andy Van Treeck / May 29, 2023
Comment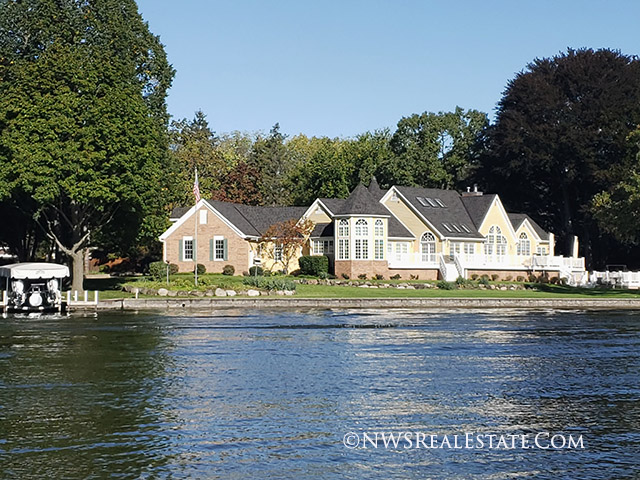 Keeping Up with Chain O' Lakes Waterfront Sales in Northern IL
The purpose of this page is to create an ongoing update on sales activity on the Chain O' Lakes. We provide line item stats and notable sales by year below. Multiple years of data can be found on this page. To only view sold listings from the past 12 months click here.
Visit our Main Chain O' Lakes Page to view available waterfront listings on the Chain.
2022 Waterfront Stats on the Chain O' Lakes in Northern Illinois

2022 Notable Sales on the Chain O' Lakes
The highest sale for 2022 on the Chain O' Lakes was a tie: 1132 Bowles Rd in Antioch and 802 Harrison Ln in Johnsburg both sold for $1,800,000.
1132 Bowles Rd offers beautiful west-facing views of Lake Marie and is only 5 minutes from downtown Antioch. It was originally listed for $1,999,000 and closed on 7/14/22 with a cash buyer for almost $200,000 less than the asking price. This beautiful 4-bedroom, 3.5-bathroom home with a finished walkout basement with wet bar boasts 5730 square feet of living space. This home also has a 5.5-car garage and a lot size of almost an acre. The kitchen and bathrooms feature high-end appliances and lots of granite. This home even has a geothermal heating system!
802 Harrison Ln closed on 10/24/22 for $250,000 less than the original list price of $2,250,000. This 4-bedroom, 5-bathroom home has 7,884 square feet of living space on approximately 3/4 of an acre. This home comes with its own private beach on Pistakee Bay, as well as a pier and electric boat lifts. There is a lot of outdoor space here with a covered patio, a terrace, a balcony, and a custom paver pool deck. There is even a convenient full bathroom and 2nd laundry room on the pool level. Three fireplaces add a cozy touch to the family room, kitchen, sun room, and wet bar.
The third highest sale in 2022 on the Chain was 913 Rolling Lane Rd in Johnsburg. Selling for $1,100,000 on 9/16/22, this 6-bedroom, 6-bathroom (4 full) home is also on Pistakee Bay, and with an impressive 9-car garage, there's lots of storage for water toys. The nearly 3-acre lot allows for plenty of elbow room, and inside there's an elevator that runs from the walkout basement to the 2nd story.
The Chain's 4th highest sale for 2022 was 42926 N Janette St in Antioch, which sold for 1,020,000 on 7/10/22. This home has stunning western views of Lake Catherine and a 100-foot pier. With a chef's kitchen, 5 bedrooms, and 3.5 bathrooms in 4,695 square feet of living space, this is a great home for entertaining. The great room has a 19-foot vaulted ceiling and a wall of windows to maximize sunset views over the lake.
2021 Chain O' Lakes Waterfront Sales Compared to 2020
So 2021 was a huge year for real estate and waterfront homes on the Chain O' Lakes in northern Illinois were no exception. As an expert on the Chain O' Lakes I wanted to take a minute and compare 2021 waterfront sales to 2020 sales.
The median sales price jumped 14% from $311,500 in 2020 to $355,000 in 2021 while the average sales price jumped 20% from $360,645 to $435,696! Both median and average days on market were down significantly year over year as well. As of 12/20/21 there were 171 waterfront sales on the chain versus 188 in 2020.
There were a total of 4 sales north of $1,000,000 on the Chain O' Lakes in 2020 compared to 7 in 2021. $1,460,000 was the high 2020 sales compared with $2,200,000 in 2021.
No doubt low inventory coupled with strong demand were the driving forces in all of these stats.
2021 Waterfront Stats on the Chain O' Lakes, Northern IL
2020 Waterfront Stats on the Chain O' Lakes, Northern IL

2021 Notable Sales on the Chain O' Lakes
2923 Regner Rd Sold twice in 2021 and both sales represent the highest 2 sales on the Chain O Lakes in 2021. On April 8th it closed for $2,100,000 and on August 18th it sold again for $2,200,000. It is located on Pistakee Bay on an oversized lot. This property has 4 bedrooms, 4.1 bathrooms a 6 car garage and 3,667 above grade square feet. This property also features a finished walkout basement.
The third highest Chain O' Lakes sale 2021 was also on Pistakee Bay at 3320 Rocky Beach Rd. This property sold for $1,625,000 on September 1st 2021. This property featured 5 bedrooms, 5.2 bathrooms, 2 fireplaces and a 2 car garage. The total above grade square footage is 5,777 and there is 1,150 square feet of finished basement as well as 1,850 square feet of unfinished basement. The lot size is .9 acres.
Pistakee Bay notoriously commands the high sales prices on the Chain O' Lakes as it has above average size lots many of which are located above the flood plain. It is also located within McHenry County in the Johnsburg school district which is unique for the Chain O' Lakes.
The fourth highest sale was 3670 Grand Ridge Ct which closed on April 12th, 2021 for $1,400,000. This property is located on the west shoreline of Pistakee Bay.
The fifth highest sale of 2021 is 1136 Bowles Rd in Antioch sold for $1,114,000 on Lake Marie on February 26th 2021. Lake Marie is a popular lake with spectacular views.
42532 N Linden Ln Antioch tied for the sixth-highest sale in 2021. Located on Channel Lake it closed for $1,100,000. Channel Lake is the northernmost lake on the chain and is highly desirable with good water clarity and a sand bar where boaters anchor, swim and hang out.
38596 N Drexel Blvd in Antioch tied for sixth high sale also closing at $1,100,000. This property is located on the north side of Fox Lake offering south and southeast water views. Fox Lake is the chain's largest lake and offers spectacular views and there are some sections with less boat traffic than you will find on other lakes.
994 E Shore Dr in Fox Lake sold for just under $1,000,000 at $969,000 and is located on Dunn's Lake. Dunn's lake is a smaller lake on the west side of the chain and connects to Nippersink Lake.
Attention Chain O' Lakes Sellers
If you are interested in selling your Chain O' Lakes property I will be happy to give you a free market analysis and will be sure to include all your upgrades, view and floor plan. I have been selling real estate for 13 years and offer negotiable rates. Andy Van Treeck (815) 900-5921 voice/text
Attention Chain O' Lakes Buyers
If you're interested in buying a Chain O' Lakes property I would be happy to show you around with absolutely no obligation. I know where to find the high and dry properties and often learn about properties before they hit the market. Reach out to me anytime for the inside edge. You may also check out our main Chain O' Lake Page for more info. Andy Van Treeck 815-790-3548
View Sold Chain O' Lakes Homes from the past12-months
Have a Question About Chain O' Lakes Waterfront Homes?