Chain O' Lakes Waterfront Real Estate, IL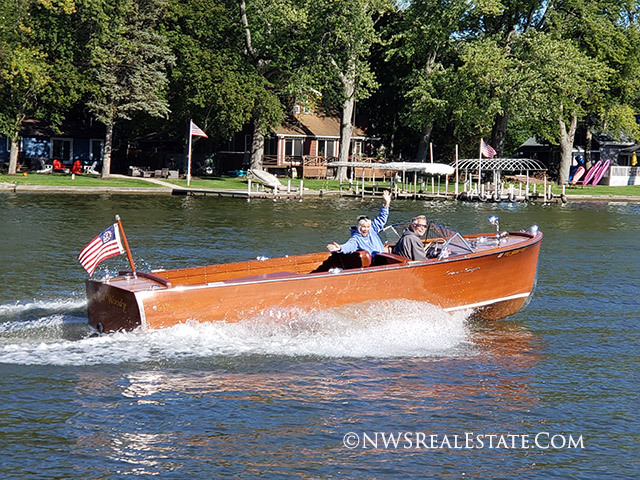 The Chain O' Lakes Area is a leisure paradise that is a budget-friendly alternative to Lake Geneva, WI. It is predominately located within Lake County and has some access from McHenry County in the much sought-after Pistakee Bay. Comprised of 15 interconnecting lakes there are lots of places to go.
With property on the Chain O' Lakes, you will find the perfect balance of family fun. With swimming, wakeboarding, access to restaurants with dock parking and close proximity to world-class fishing you can have it all with property on the Chain O' Lakes waterfront. Our agents are familiar with property both on the waterfront and subdivisions with marinas managed by an association. Whether it's seeking solitude in a quieter lake or bay or being a part of the action we know where to find it! Read More about Chain O' Lakes.


Waterfront Real Estate For Sale on The Chain O' Lakes, IL
Today's Chain O' Lakes Area Waterfront Home Report
January 31, 2023
More about Chain O' Lakes
Depths range between 3 Ft upwards to 42 Feet and there are no regulations with respect to the power of your boat. Given the variations of depths, you will find a few areas of the Chain that can only be accessed with small vessels such as Canoe, Kayak or smaller pontoon boats. Pontoon boats are a very popular choice of vessel. Our agents are familiar with where to find the more quiet bays and lakes within the chain in order to assure you make the decision that suits the lifestyle of keeping away from the action, yet, having it accessible when entertaining guests.
Chain O' Lakes FAQS


What is the Best Lake on the Chain to Live on?
There are several great options depending on how you plan to enjoy the lake. Pistakee Lake, Channel Lake, Lake Marie, and Fox Lake have waterfront and subdivisions with a variety of exposure to leisure life. Would you prefer a quieter bay around the corner from the action? We will guide you to the specific properties to assure you are making the decision that suits your lifestyle.
Do Homes Flood on the Chain?
Certain sections of the Chain O' Lakes are more flood-prone than others. Reach out to us today as we have the technology and know-how to find where to establish waterfront and near-the-lake living that will keep you as dry as possible and avoid the designated zones with obscene insurance premiums. The Fox Waterway Agency provides the service to minimize flooding in the Chain O' Lakes and Fox River.
Where are the Quiet Lakes and Bays on the Chain to consider for the purchase of a home?
Consider the East and Southeast sections of Fox Lake and you will find Stanton Bay and Columbia Bay. They are both quiet, less-traveled sections and you can even see the fireworks from the lakefront homes there! There are many other private sections that you may want to learn about so consider calling or texting Andy Van Treeck at 815-790-3548. Andy is a Chain O' Lakes expert and can guide you to the most desirable sections of the Chain O' Lakes.
Are there Restaurants that are accommodating with docks for parking your boat?
If you would be interested, restaurants on the chain of lakes il will provide you with an array of dining choices that have dock parking. Be aware of busy times as docks tend to get congested and plan your day accordingly.
What is the Buzz about

Blarney Island

?

Also known as the

Key West of the Mid-West.
Known as the greatest boating bar in the world Blarney Island has become a destination for boaters in the chain for its activities catered to the family during the day while the evening hosts an array of live music throughout the season. A lot of history goes into becoming a Key that can be read on the wall on a large mural describing the U.S. Naval involvement in accounting for and creating Blarney Island to be distinguished as a part of the Florida Keys. The boat races take place on Thursday evenings from Memorial Day to Labor Day and have been providing the theater of locals drag racing their race boats since 1978. If you do not have a boat it is accessible from Port O' Blarney via shuttle boat to enjoy and for those arriving by boat, there is an array of docks providing parking.
What Lake is Blarney Island on?
Blarney Island is on Grass Lake which connects to Fox Lake due South and Lake Marie to the Northeast.
What Agency(s) Manage the Waterway?
Fox Waterway Agency is commissioned to monitor the water levels, operate the McHenry dam along with a vast array of projects and ongoing upkeep that sustains it as a boating and fishery destination to enjoy. The Sheriff's Marine Unit of Lake County enforces state law and promotes safe boating.

Schedule a Showing or Ask Us A Question
From Our Blog - Chain O Lakes