Nippersink Lake Waterfront Real Estate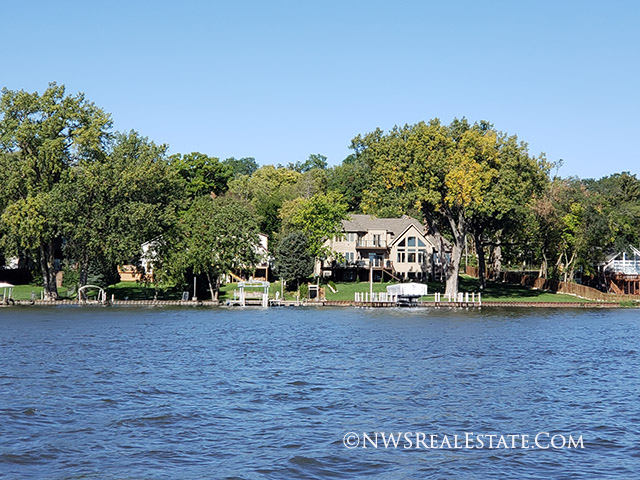 Nippersink Lake is the lake to the north of the Route 12 Bridge and is typically confused with Fox Lake for those who are not as familiar with the Chain O' Lakes. The peninsula "Point Comfort" is the landmass that is pointing due north creating a barrier between Nippersink Lake and Fox Lake. There is an opportunity for Condo Living on the peninsula of Point Comfort providing access to the Chain O' Lakes without the summer home up-keep for those either too busy or who do not have the budget to afford a single-family home on the waterfront.
Read more about Nippersink Lake.
Click Here to Ask the Waterfront Experts a Question!
Available Homes For Sale On Nippersink Lake
Today's Nippersink Lake Real Estate Report
May 29, 2023
Nippersink Lake Quick Facts
Nippersink Lake Size: 718 Acres
Nippersink Lake Depth: 5 Feet
Full Power on Nippersink Lake: Yes
Navigable to the adjacent lakes: Yes
Nippersink Lake Frequently Asked Questions
What are the advantages of Nippersink Lake?
Nippersink Lake is in a central location of all the Chain O' Lakes. It's a great location if you want to explore different lakes. It's also a pretty large lake at 718 acres and has 23 miles of shoreline. It's surrounded by residential properties and wetlands. It's a great lake for wave running and fishing.
What are the disadvantages of Nippersink Lake?
One disadvantage to lake living is that you have to remove your pier and lift during the winter months. Luckily this lake has multiple marinas and services available to assist with this need. Because of its central location, Nippersink Lake is a busier lake with more traffic than some of the other lakes.
Where is Nippersink Lake located?
Nippersink Lake is located in Fox Lake, IL and Spring Grove, IL.
What schools service Nippersink Lake homes?
Fox Lake School District 38 & 114 and Spring Grove School District.
How Deep is Nippersink Lake?
The average depth is 2.5 and the max is 5ft.
Is there a lot of boat traffic on Nippersink Lake and are there any private sections?
There is boat traffic on Nippersink Lake.
Do people swim in Nippersink Lake?
There is a beach located at Lake Front Park off of Nippersink Blvd.
Is Nippersink Lake a good fishing lake?
Yes, this lake's most commonly caught fish are Blue Gill, Carp, Large Mouth Bass and Black Crappie.
Are there restaurants you can dock at around Nippersink Lake?
Yes, El Puerto restaurant is located on Nippersink Lake. It features outdoor and indoor seating. It also has Waverunner and boat parking available.
Are there boat ramps, marinas, or gas available for watercraft?
Yes, Jet Fun is located on this lake. Jet Fun offers boat and waverunner rentals. The Chain O' Lakes State Park or Oak Point have public launches available.