Petite Lake Waterfront Real Estate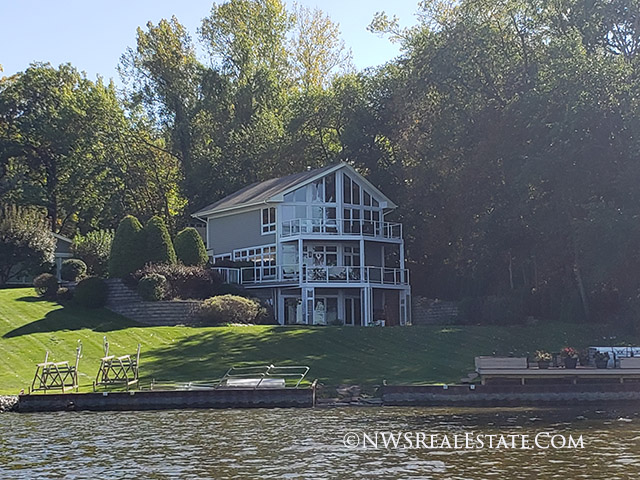 Petite Lake has some of the most desirable Waterfront Real Estate on the Chain O' Lakes given the gradual slope of most lots with generous frontage available. Keep in mind this lake can get very rowdy and fits the personality of being in the center of the action, especially throughout the summer months. A lot of people come from throughout the chain to enjoy swimming off sand bars on this beautiful lake.
Read more about Petite Lake.
Click Here to Ask the Waterfront Experts a Question!
Available Homes For Sale on Petite Lake
Petite Lake Homes
November 29, 2023
Petite Lake Quick Facts
Petite Lake Size: 167 acres
Petite Lake Depth: 22 ft
Full Power on Petite Lake: Yes
Navigable to the adjacent lakes: Yes
Petite Lake Frequently Asked Questions
What are the advantages of living on Petite Lake?
Petite Lake is a smaller Lake in the Chain. It features a popular sandbar that is about 100 yards and is in a no-wake area.
What are the disadvantages of living on Petite Lake?
Petite Lake can be busy in the summer with many boaters anchoring to enjoy the sandbar location. If you don't enjoy taking part in a Sandbar party or watching one, we can guide you to a more secluded section of the Chain O' Lakes.
Where is Petite Lake located?
Petite Lake is located in Lake County in the town of Lake Villa & Antioch.
How Deep is Petite Lake?
Petite Lake's deepest point is approximately 22 ft deep.
Is there a lot of boat traffic on Petite Lake and are there any private sections?
Many boaters travel to the sandbar to anchor. The sandbar is surrounded by a no-wake area.
Do people swim in Petite Lake?
Yes, this lake is known for anchoring and swimming off the sandbar.
Is Petite Lake a good fishing lake?
Yes, this lake offers a variety of fish such as Bluegill, Channel Catfish, Largemouth Bass, Muskie, Northern Pike, Smallmouth Bass, Walleye, White Bass, White Crappie, and Yellow Perch. This lake is open all year and has ice fishing available in the winter.
Are there restaurants you can dock at around Petite Lake?
There are no restaurants directly on Petite Lake. The closest restaurant on boat/watercraft is Grannys Lakeside Diner which has boat access at Spring Lake Marina on Spring Lake. Otherwise, you can access Fairmont Shores or Captain's Quarters by watercraft on Fox Lake which is located next to Petite Lake.
Are there boat ramps, marinas, or gas available for watercraft on Petite Lake?
Petite Lake Resort has boat slips and a boat launch. This lake doesn't have gas available.