Pistakee Lake Waterfront Real Estate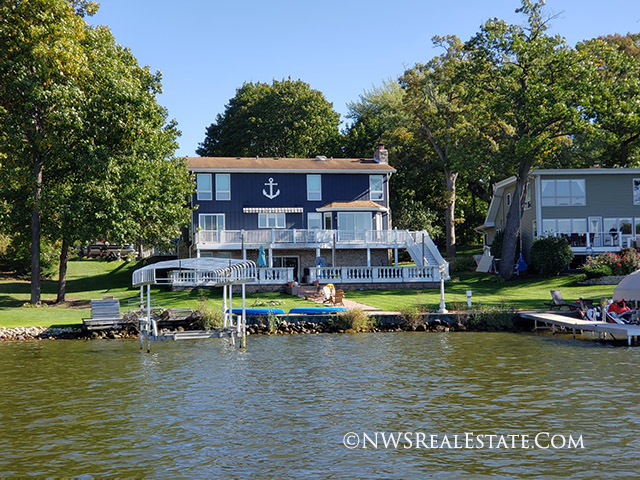 Pistakee Lake and Fox Lake are the largest lakes in the Chain at 1700 acres. Pistakee Lake offers a variety of restaurants and bars to dock at. It also has multiple marinas for your watercraft needs. Pistakee Bay is a very desirable swimming area where people anchor and enjoy the beautiful scenery.
Read more about Pistakee Lake
Click Here to Ask the Waterfront Experts a Question!
Available Homes For Sale On Pistakee Lake
Today's Pistakee Lake Real Estate Report.
May 29, 2023
Pistakee Lake Quick Facts
Pistakee Lake Size: 1,700 acres
Pistakee Lake Depth: 34 feet
Full Power on Pistakee Lake: Yes
Pistakee Lake Navigable to the adjacent lakes: Yes
Pistakee Lake Frequently Asked Questions
What are the advantages of Pistakee Lake?
Pistakee Lake and Fox Lake are the largest lakes in the Chain at 1700 acres. Pistakee Lake offers a variety of restaurants and bars to dock at. It also has multiple marinas for your watercraft needs. Pistakee Bay is a very desirable swimming area where people anchor and enjoy the beautiful scenery.
What are the disadvantages of Pistakee Lake?
One disadvantage to lake living is that you have to remove your pier and lift during the winter months. Luckily this lake has multiple marinas and services available to assist with this need. See the marinas listed below.
Where is Pistakee Lake located?
Pistakee Lake is located in the towns of Johnsburg Illinois and Fox Lake Illinois. It is located near shopping, restaurants, bars, marinas and more.
What schools service Pistakee lake homes?
Johnsburg School District 12 and Fox Lake School District 38 & 114
How Deep is Pistakee Lake?
The average depth is 6 ft, but there are significant drop off that can have a depth of up to 34ft
Is there a lot of boat traffic on Pistakee Lake and are there any private sections?
There is boat traffic on Pistakee Lake but there are no wake sections in front of many of the homes.
Do people swim in Pistakee Lake?
Yes, most people anchor and swim in Pistakee Bay
Is Pistakee Lake a good fishing lake?
Yes, this lake offers a variety of fish such as bluegill, carp, channel catfish, largemouth bass, muskie, northern pike, smallmouth bass, walleye, white bass, white crappie, yellow bass and yellow perch.
This lake is open all year and has ice fishing available in the winter.
Are there restaurants you can dock at around Pistakee Lake?
Yes, some of the restaurants include Dockers, The Lake House, Famous Freddies, McDonalds and Studio Hot Rods Smokehouse
Are there boat ramps, marinas or gas available for watercraft?
Yes, The Boat House Chicago at Bald Knob is a large marina that offers boat storage, service, boat ramps, gasoline and a convenient store. There are also additional marinas that offer watercraft service and storage such as Ben Watts Marina, Five Star Boat Center and Marina, Chain O' Lakes Marina.